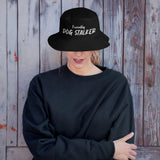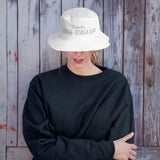 Introducing our "Friendly Dog Stalker" Bucket Hat, because let's admit it, being a dog lover means we can't resist becoming their biggest fans and friendly stalkers! 🐾🕶️
This hat is for those who embrace their inner dog-obsessed persona with a playful sense of humor. With its bucket hat style and witty design, it proudly announces to the world that you're a friendly dog stalker, and you just can't help yourself when it comes to admiring our four-legged friends.
Crafted with a blend of humor and love for all things canine, this Bucket Hat offers both style and functionality. Its wide brim provides shade from the sun while keeping you looking effortlessly cool as you pursue your doggie crushes in the park.
The embroidered "Friendly Dog Stalker" design is a light-hearted way to express your admiration for our furry companions. It's a conversation starter, a lighthearted icebreaker that invites fellow dog lovers to share stories and join the friendly stalking club.
But let's not forget the practicality! This hat is ready for your dog-stalking adventures. It's lightweight, comfortable, and stays securely on your head as you follow dogs around with a big smile and friendly enthusiasm.
So, if you're a self-proclaimed "Friendly Dog Stalker" who embraces their doggie obsession with a sense of humor, this Bucket Hat is your perfect companion. Slip it on, step out into the world, and let the dogs (and their humans) know that you're a friendly fan who can't resist their irresistible charm. Get ready to stalk, but always with a smile! 🐶🕶️
Size: ONE SIZE
Material:
• 100% cotton twill
• 3 ¾″ (7.6 cm) crown
• 2 ¼″ (5.1 cm) brim
• One size fits most
• Sewn eyelets for breathability
Size guide
| | | | |
| --- | --- | --- | --- |
|   | A (inches) | B (inches) | C (inches) |
| One size | 22 | 3 | 2 |
FAQ
Yes, our talented artists would be happy create a portrait with multiple pets for you. If you would be interested in a portrait with multiple pets please reach out to us via our
Our talented artists can work with most photos given to us. It is important for them to be able to see as much detail as possible so that they can properly capture your pet's personality and expression. As such, high resolution photos are ideal.
We also put together a simple photo guide to help you pick the right photo.
We can create custom pet portraits of any animal such as dogs, cats, horses, birds, reptiles, rabbits, ferrets, etc. Our artists are extremely talented and will be able to create stunning custom pet artwork for you.